Hair transplant is a surgical procedure meant to transfer the patient's head tissue grafts (which may consist of 1 to 10 hair follicles) from the nape area to the balding or thinning area. It's the most permanent solution to hair loss problems.
Hair transplant surgeries are becoming more common, more performed and always more requested. It's pain-free, not risky and only uses local anesthesia.
💰 WORLWIDE 4.9 BILLION USD (2021)
✅ 95% PATIENTS SATISFIED
🏥 2.2+ MIL PATIENTS YEARLY
🚹 87.3% MEN
🚺 12.7% WOMEN
💲$10,750 AVERAGE PRICE
💤 2 DAYS OF REST POST-OP
What is a hair transplant?
A hair transplant surgery is a permanent solution to baldness or hair thinning. The hair transplant  transfers the patient's own hair follicles from an alopecia-free area in the nape to those areas affected by balding or by thinning. The hair transplant surgery is not reversible and the surgery lasts from 4 to 8 hours with only local anesthesia.
Thanks to the transplantation, millions between men and women permanently solve their balding problems.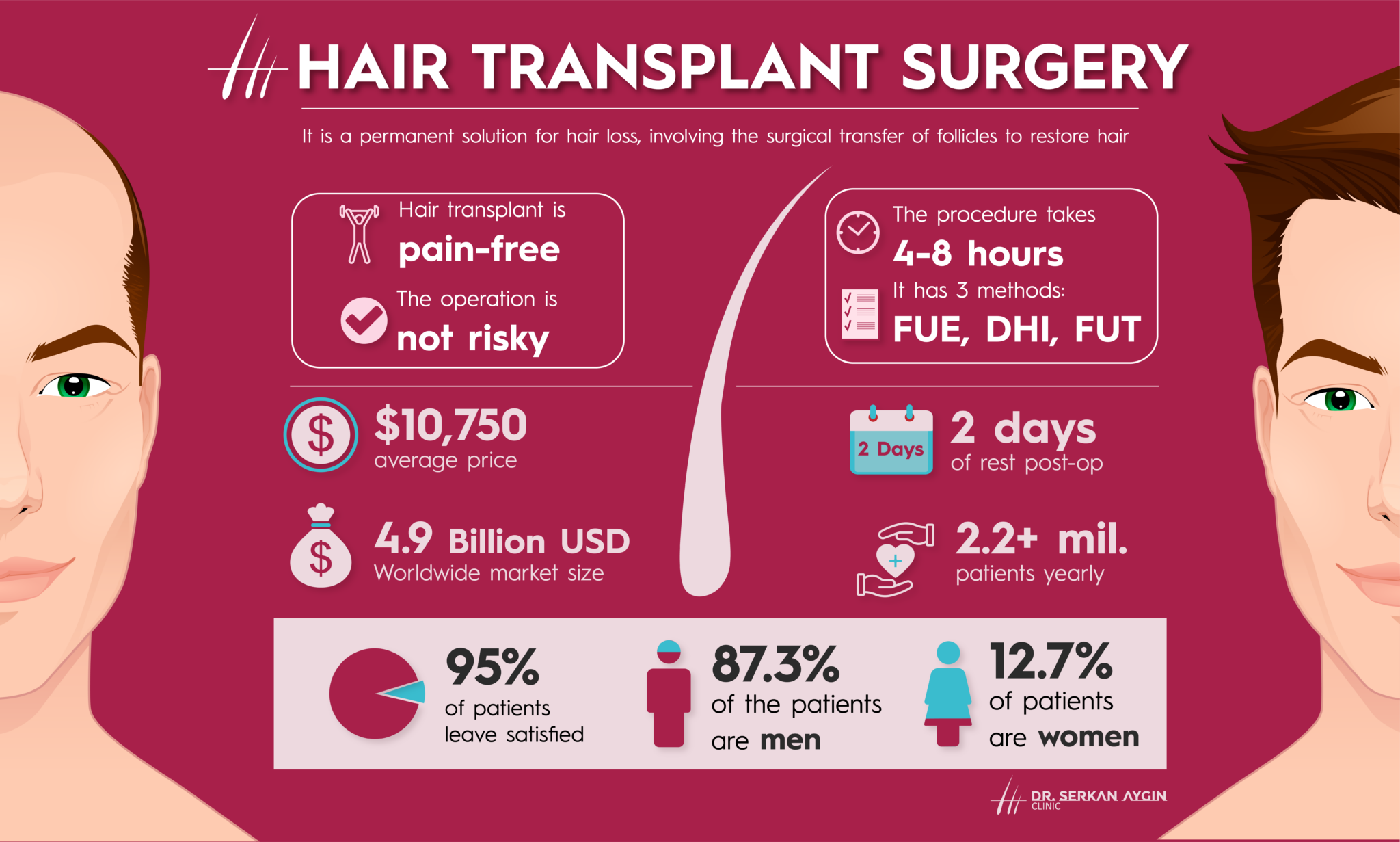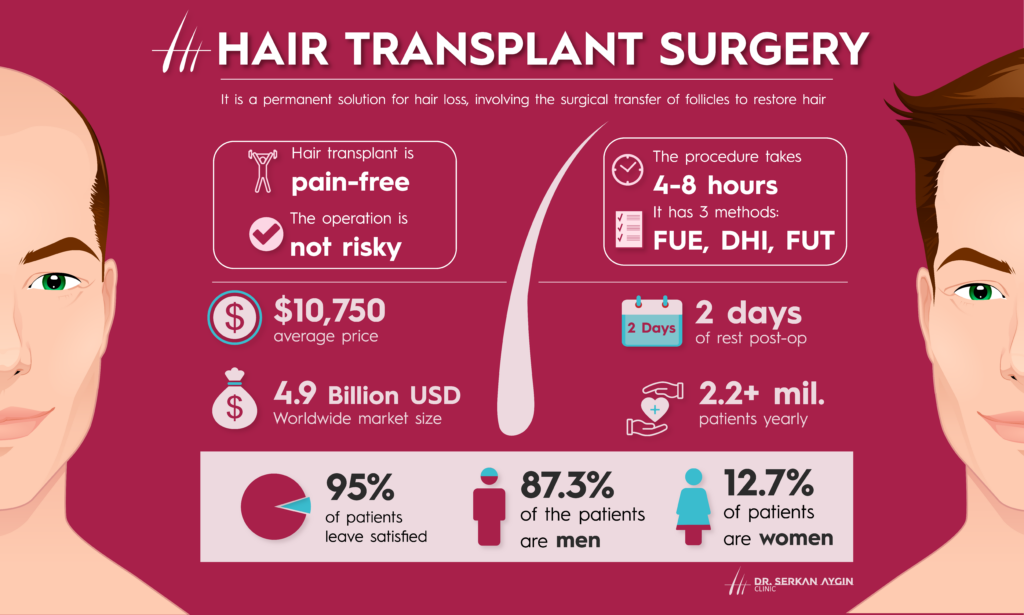 QUESTION: IS HAIR TRANSPLANT PLASTIC SURGERY?
Yes, hair transplantation is plastic surgery even if it's non invasive, does not require general anesthesia and doesn't require a stay at the hospital.
How does hair transplant work?
There are two reasons hair transplant works: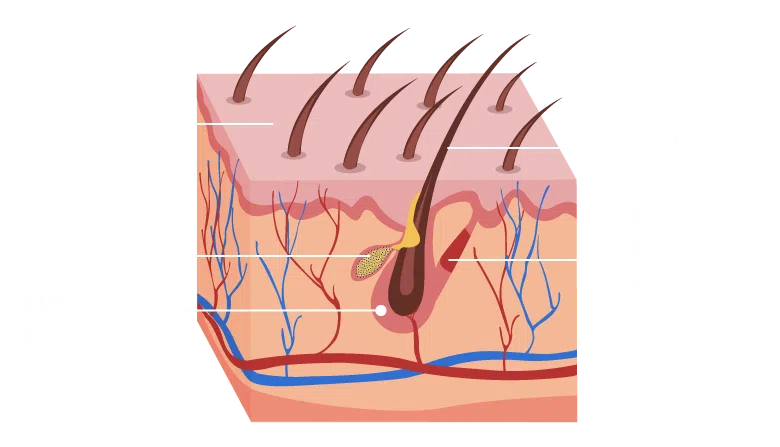 First, during the transplant the team doesn't take only the hair with the root. They take the whole "hair organ" with surrounding tissues and all the parts that allow the survival of the hair. This allows the hair to settle in and take root to the new site and grow forever following the hair cycle.
Second, the transplanted hair won't fall in future due to alopecia thanks to the Donor Dominance Theory making the transplanted hair immune to DHT.
WHAT'S THE DONOR DOMINANCE THEORY?
After a hair transplant your hair won't fall back, but why? It's because of the Donor Dominance Theory. The transplanted hair is immune to DHT (dihydrotestosterone) so will not be a victim of androgenetic alopecia.
Let's explain:
Dr. Orentreich – the founding father of hair replacement – was the first to hypothesize that hair transplantation could be the solution to Androgenetic Alopecia in 1952 after graduating at New York University (NYU).
The Donor Dominance Theory says there's a "safe" area in the back of the head for the extraction of grafts. It means that the hair in that area is immune to DHT (Dihydrotestosterone), responsible for your genetic hair loss.
WON'T THE HAIR KEEP FALLING OUT AFTER A TRANSPLANT?
No, the transplanted hair won't fall after the hair transplant because they're not subject to DHI. However, your indigenous hair – not the transplanted ones – may fall due to Androgenetic Alopecia.
Is hair transplant permanent?
Does hair transplant stay forever? Yes, hair transplantation is permanent. And if you wonder how long do hair transplants last, it lasts for a lifetime. The transplanted hair is not subject to androgenetic alopecia. There may be some slight thinning in old age (due to age).
This excludes damages such as burns, bad post-op care, accidents, temporary or seasonal hair loss, etc.
HOW LONG DOES A HAIR TRANSPLANT SURGERY LAST?

The whole procedure takes 4-8 hours, depending on how many grafts you need. Grafting a small area with less density will require less time, while grafting a large area with high hair density will take longer.
Yes, hair transplantation is safe and not a risky surgery. There may be some side effects and minor risks: bleeding, allergic reaction to anesthesia, infection, and redness. However, they're rare and easy to avoid.
Hair transplant procedure
How is hair transplant done? Everyone is curious about the procedure itself. 
What is the step by step procedure of hair transplant?
EXAMINATION AND HAIRLINE DESIGN
SHAVING & PREPARATION
SEDATION AND LOCAL ANESTHESIA
HAIR GRAFTING
GRAFT PREPARATION & PRESERVATION
OPENING OF CHANNELS (NOT IN DHI)
HAIR GRAFT INSERTION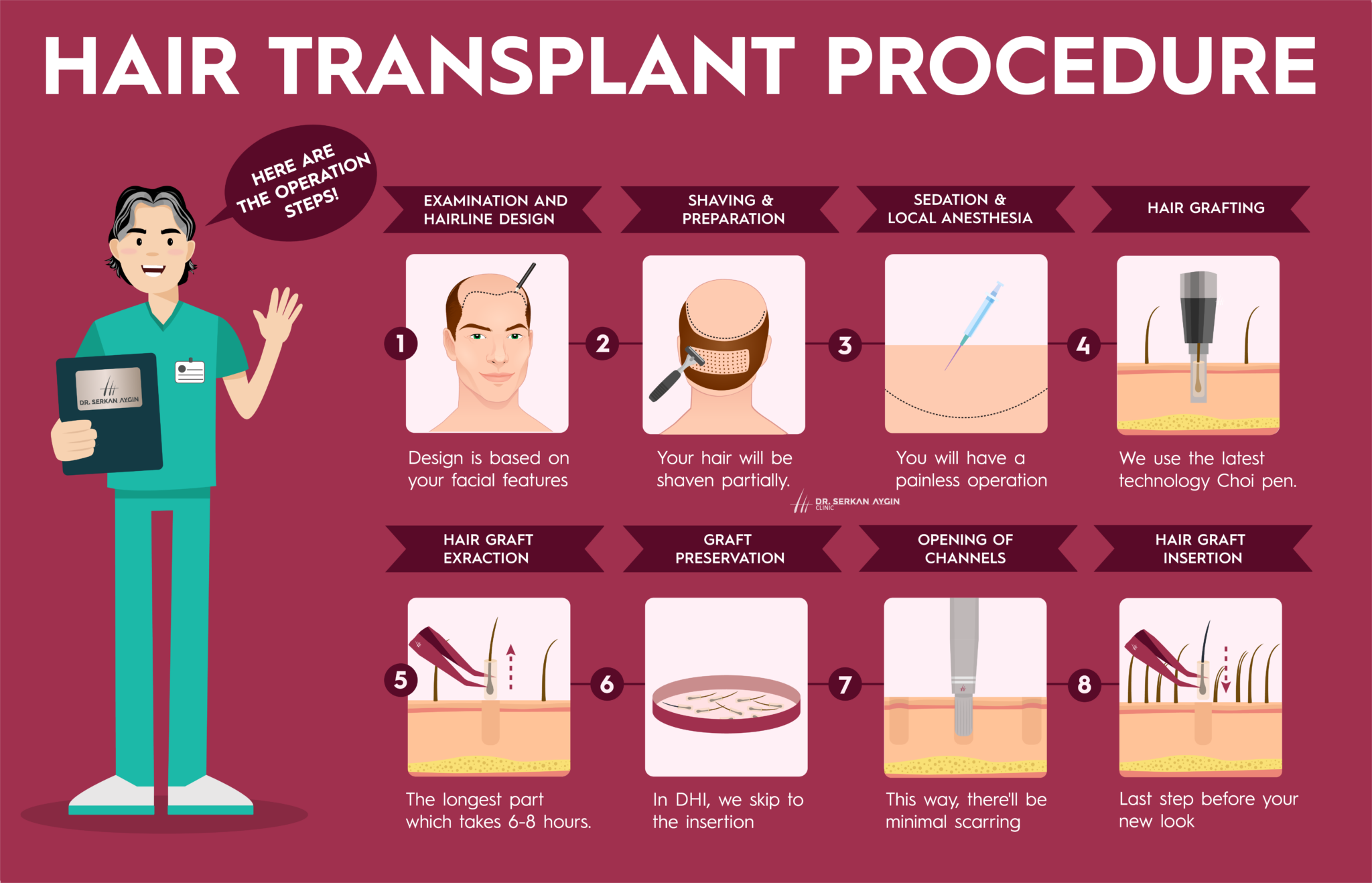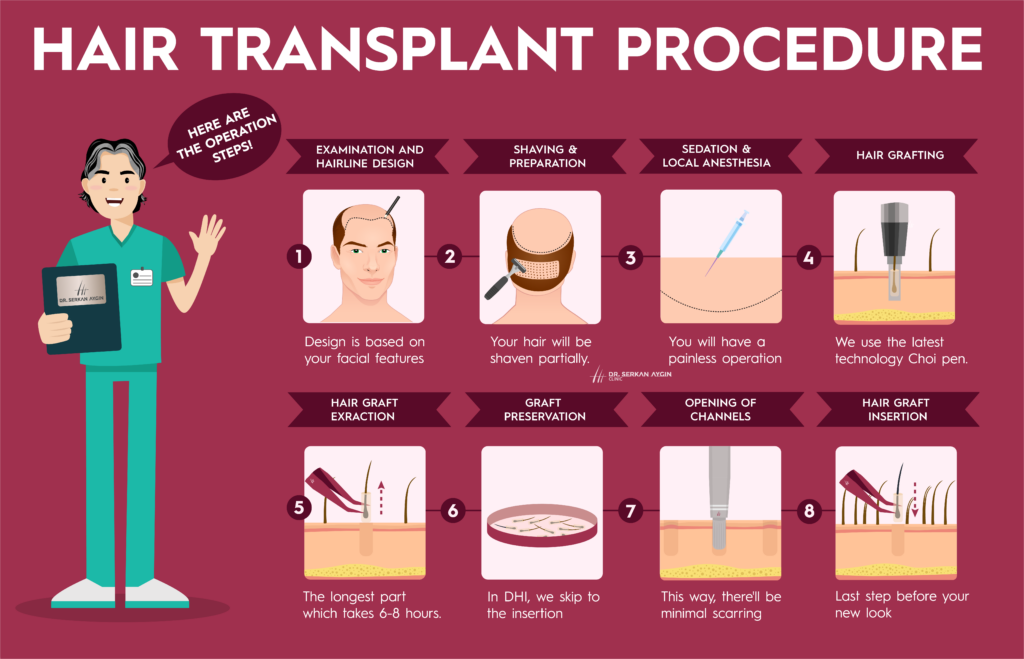 During the examination, the doctor explains how the surgery will go, how many hair grafts they can harvest, what to expect from the surgery, and designs the new hairline. Dr Serkan Aygin Clinic owns a modern and rare medical 3D scanning and analysis robot to give an aesthetically pleasing hairline. When the visit is done, the team trims the patient's hair with electric razors to 1mm approximately.
Once the patient is in the operating room, sedation and local anesthesia are applied.
During the hair grafting, the grafts are extracted by a micro-motor with a metal hollow pipe. The hollow pipe enters the skin by rotating and cutting the skin. Not only the hair bulb is extracted but the whole follicular unit with surrounding tissue.
The operation crew follows these three basic moves until enough grafts are harvested:
INJECTION OF MICRO MOTOR TO GRASP GRAFTS
TWISTING AND EXTRACTING THE GRAFTS OUT
COLLECTING THE GRAFTS WITH TWEEZERS
WHAT IF IT'S A FUT PROCEDURE?
In FUT, they surgically remove a strip of skin to harvest the hair and stitch the scalp, leaving a visible linear scar afterward.
Hair grafts are cleaned and left in a cold saline solution. There is no definitive data on how long hair grafts can remain outside of the body and remain viable. However, it's preferred not to keep them out of the body for more than two hours.
The team starts creating micro cuts with a sapphire blade in the recipient area, opening the channels that will house the harvested hair follicles. These are not deep and are very small in diameter.  
The angle and the direction of these channels are key. When the team opens these channels at the perfect angle and in the right direction, the result will be natural and unnoticeable. It's key to mimic the natural direction and angle of the hair.
Once the opening of the channels is completed, the grafts are inserted one by one until completion with the help of a medical tweezer (forceps).
After the surgery you will be able to walk, be awake and do everything. However, you may feel tired, confused and have a slight headache. We suggest you go directly home – or at the hotel – eat something and rest as much as possible. It's absolutely normal to feel dizzy and tired. Just enjoy some rest, you deserve it!
IS HAIR TRANSPLANT DONE UNDER GENERAL ANESTHESIA
No, hair transplant is not done under general anesthesia. Local anesthesia is performed, sometimes with light sedation to put the patient at ease.
IS HAIR TRANSPLANT SERIOUS SURGERY?
If by serious you mean invasive or dangerous, no. A hair transplant is not invasive nor dangerous, yet it's not to be taken lightly, like any surgery.
Different hair transplant methods
There are 3 different hair transplant methods, they are: 
FUE (FOLLICULAR UNIT EXTRACTION)
DHI (DIRECT HAIR TRANSPLANTATION)
FUT (FOLLICULAR UNIT TRANSPLANTATION)
FUE and DHI have the same grafting method but different insertion method. FUT has a different extraction method but the same insertion method as FUE.
Hair transplant candidate
All healthy adults with common hair loss patterns benefit fruitfully from hair transplants; however, some can get it under certain conditions, while others may not qualify.

A good candidate for hair transplant has:
AT LEAST 18 YEARS OLD
PERMANENT HAIR LOSS
HAIR LOSS IS SLOW
ANDROGENIC ALOPECIA HAIR LOSS
HAIR LOSS DUE TO TRAUMA OR BURNS
FEMALE ANDROGENETIC ALOPECIA
HIGH FOREHEAD
REALISTIC EXPECTATIONS
SUFFICIENT DONOR AREA DENSITY
UNDERGOING GENDER TRANSITION

Not a hair transplant candidate: 
TEMPORARY HAIR LOSS
HEPATITIS C AND BLOOD BORNE DISEASES
PSYCHIATRIC DISORDERS OR EPILEPSY
BLOOD INFECTIONS
DURING CHEMOTHERAPY OR RADIOTHERAPY
ALOPECIA AREATA
AUTOIMMUNE HAIR LOSS
DURING PREGNANCY
WHY IS IT IMPORTANT TO BE A GOOD CANDIDATE FOR A TRANSPLANT?
Trying to get a successful surgery is only possible when you're a good candidate. Let's not talk about diseases, pregnancy and psychiatric disorders for the obvious reasons.
If you get a hair transplant surgery with alopecia areata or any other autoimmune disorder causing hair loss, the transplanted hair will be attacked too and will fall permanently.
If you get hair transplant surgery when suffering from a temporary hair loss what happens? You will be wasting your time. Hair subjects to temporary hair loss are destined to grow back the moment you find out – and solve – the cause of your hair loss.
If you get a hair transplant with diffuse thinning, it will be impossible to transplant hair everywhere and determine which hair follicles are "empty" and can be filled with transplanted hair.
CAN I TRANSPLANT HAIR FROM MY SON OR ANOTHER PERSON?
No, you cannot get hair from another person, even if they are related to you. This is because your body would reject the implanted hair, making the surgery completely useless.
There is a small catch: some studies had positive results with implantations between identical twins. However, there's not enough evidence to pursue this kind of surgery.
WHY WOULD YOU NEED A HAIR TRANSPLANT?
You would need a hair transplant with any and every hair loss that's permanent, either genetic or caused by trauma, burns or by a birth defect. It should not be auto-immune related and not in any case temporary.
IF YOU AREN'T LOSING HAIR CAN YOU STILL GET A HAIR TRANSPLANT?
Yes, you can if:
YOUR PERMANENT HAIR LOSS STOPPED OR SLOWED DOWN
YOUR HAIRLINE IS TOO HIGH SINCE BIRTH
YOU'RE UNDERGOING GENDER TRANSITIONING
YOU LOST HAIR DUE TO BURN OR TRAUMA
What is the best age for hair transplant?
There are no specific age limits for hair transplants. The patient must be 18+, to fully understand the implications of the transplant and make an informed decision.
However, the recommended age is generally between 22 and 75.
CAN YOU GET A HAIR TRANSPLANT TOO EARLY?
Yes, you can get a hair transplant too early if your hair loss has just started and has not settled yet. Waiting for the moment your alopecia slows down and settles is important and it will avoid multiple transplants in the future.
Does a hair transplant look natural?
A natural hair transplant, or better, natural looking hair transplant should be the goal of every team performing it. If the transplant is performed correctly, it will look natural and nobody will notice you got one. The team will follow the natural direction and angle of the hair and mimic it perfectly.
Male hair transplantations are more common with 84,2% of all hair transplants while 15,8% are females. Men are more likely to be affected by androgenetic alopecia. Also, alopecia in women is mostly diffused while in men is localized, making men better candidates for hair transplant surgery.
84,2%
MEN HAIR TRANSPLANT
15,8%
WOMEN HAIR TRANSPLANT
WHY DO MEN UNDERGO HAIR TRANSPLANT?
Men undergo hair transplant mainly to remedy the effects of androgenetic alopecia which leads to a receding hairline or absence of hair in one or more areas of the head.
Androgenetic alopecia affects men exponentially more frequently than women. 67.1% in men and 23.9% in women according to some studies.
Men choose hair transplant to feel better about themselves and others. Countless studies report effects of a hair transplant on mental health and general well-being of patients.
IS HAIR TRANSPLANT SUCCESSFUL FOR MAN?
Yes, it is! A hair transplant for men has a 95% to 99% success rate. This is extremely positive.
HOW TO HIDE A HAIR TRANSPLANT?
Not all patients are ready to immediately disclose or show their hair surgery. Here's how to hide redness hair transplant:
The first days: you will be in Turkey away from prying eyes. In the following days you can wear a wide-brimmed cotton hat.
The first month: Fisherman's hats, visor caps, bandanas, etc. They will be your allies to hide the signs of the hair transplant.
The following months: Starting from the end of the first month you will be able to wear any type of hats. The signs of the transplant will gradually disappear and you will breathe a sigh of relief.
A no shave DHI hair transplant may help you hide the transplant better.
Note: We firmly believe that taking care of yourself and improving your appearance is not to be hidden but to be celebrated. There's no shame in listening to your desires and being happy again. Either way, we understand the desire for privacy and are here to offer you helpful advice.
References:
[1] Unger WP, The History of Hair Transplantation, Hair Transplant Forum International 2000; 10(4)
[2] Beehner ML. A comparison of hair growth between follicular-unit grafts trimmed "skinny" vs. "chubby". Dermatol Surg. 1999;25(4):339-340. doi:10.1046/j.1524-4725.1999.08262-2.x
[3] Parsley WM, Perez-Meza D. Review of factors affecting the growth and survival of follicular grafts. J Cutan Aesthet Surg. 2010;3(2):69-75. doi:10.4103/0974-2077.69014
[4] Salman KE, Altunay IK, Kucukunal NA, Cerman AA. Frequency, severity and related factors of androgenetic alopecia in dermatology outpatient clinic: hospital-based cross-sectional study in Turkey. An Bras Dermatol. 2017;92(1):35-40. doi:10.1590/abd1806-4841.20175241
[5] Park JH, Na YC, Moh JS, Lee SY, You SH. Predicting the Permanent Safe Donor Area for Hair Transplantation in Koreans with Male Pattern Baldness according to the Position of the Parietal Whorl. Arch Plast Surg. 2014;41(3):277-284. doi:10.5999/aps.2014.41.3.277
[6] Source: Wikipedia
[7] Kerure AS, Deshmukh N, Agrawal S, Patwardhan NG. Follicular Unit Extraction [FUE] – One Procedure, Many Uses. Indian Dermatol Online J. 2021;12(3):381-388. Published 2021 May 12. doi:10.4103/idoj.IDOJ_522_20
[8] ISHRS
[9] YouTube
[10] Collins K, Avram MR. Hair Transplantation and Follicular Unit Extraction. Dermatol Clin. 2021 Jul;39(3):463-478. doi: 10.1016/j.det.2021.04.003. PMID: 34053598.
[11] Ishii LE, Lee LN. Hair Transplantation: Advances in Diagnostics, Artistry, and Surgical Techniques. Facial Plast Surg Clin North Am. 2020 May;28(2):xi-xii. doi: 10.1016/j.fsc.2020.02.001. PMID: 32312512.
[12] Chouhan K, Kota RS, Kumar A, Gupta J. Assessment of Safe Donor Zone of Scalp and Beard for Follicular Unit Extraction in Indian Men: A Study of 580 Cases. J Cutan Aesthet Surg. 2019 Jan-Mar;12(1):31-35. doi: 10.4103/JCAS.JCAS_142_18. PMID: 31057266; PMCID: PMC6484564.