DHI hair transplant or direct hair implantation is an advanced, non-invasive technique for addressing hair loss. In this method, hair follicles are carefully extracted one by one, and implanted into the balding areas of the scalp using a choi pen.
This article centers on the DHI hair transplant procedure, explaining its outstanding increase in popularity. The biggest change is that it does not leave a big scar on the back of your scalp yet the appeal of DHI goes beyond this single factor!
Here are the key points you will read in this article:
DHI CAN BE CONSIDERED AN UPDATED VERSION OF FUE HAIR TRANSPLANT.

THE INVENTION OF THE CHOI IMPLANTER PEN HAS MADE THIS MINIMALLY INVASIVE PROCEDURE POSSIBLE.

DHI IS PAINLESS WITH A HIGH SUCCESS RATE OF MORE THAN 95%.

DHI HAIR TRANSPLANT IS MORE EXPENSIVE BUT IT IS A PREFERABLE METHOD OF HAIR TRANSPLANTATION FOR PATIENTS.

DHI DOES NOT AFFECT THE NATIVE HAIR AND THE RESULTS ARE NATURAL-LOOKING.

Now let's dive into the details!
What To Know About Dhi Hair Transplantation?
Direct hair implantation, also known as DHI, is one of the least invasive procedures of hair transplantation to this date.
To place the harvested hair follicles in the desired part of the scalp, a special device called the implanter pen is used to place the hair grafts in the bald areas of the scalp. This implanter combines the two stages of extraction of hair follicles and implantation of hair follicles. This is why DHI hair transplant is considered a two-step transplant, unlike the other techniques that have three steps. 
📅 SHORT HISTORY LESSON
DHI was initially invented for people with straight hair, especially of Asian descent, but it turns out that this direct hair transplantation works for most hair types except extremely curly hair. This is due to the ideal angle planning of the individual hair follicles, making you end up with the most natural-looking results.
What Makes DHI Different?
The use of the implantation tool, the Choi pen has made this procedure different from the other techniques of hair restoration. Here are the differences in a nutshell.
USING DIFFERENT IMPLANTERS

OPTIONS TO SHAVE YOUR HEAD OR NOT

REDUCED HEALING TIME

SUITABLE FOR ALMOST ANY TYPE OF HAIR LOSS

MORE EXPENSIVE THAN OTHER FORMS OF HAIR TRANSPLANT

LIMITED NUMBER OF FOLLICLES (MAX 2500 TO 3000)
This is all thanks to the Choi pen. The Choi pen has made it possible to implant individual follicles with precision and cause less trauma to the receiving piece of the scalp. Hair transplantation happens faster with less time handling healthy hair follicles outside of the body. This unique feature of precise implantation of hair follicles allows the DHI procedure to be used for almost any type of hair loss.
How Painful Is A DHI Hair Transplant?
Good news! DHI hair transplant is done under local anesthesia; therefore, you will not feel any pain during your procedure. You might experience some mild pain when the anesthesia wears off, which is expected and normal.

What Is A Choi Implanter Pen? How It's Done?
This is a pen-like tool that can make precise incisions for the insertion of the harvested hair follicles. The specialized pen-shaped tool has blades about 0.5-0.8mm. This will allow for a more precise cut which will make the transplantation almost painless and avoid excessive bleeding. 
But before getting to the implantation, the hair grafts from their roots are placed in the tip of the Choi implanter. The tip of the pen is designed so that the grafts are not harmed during the implantation process.
With ready and loaded Choi pens, the implantation process would be done much smoother. To help speed up the process, medical assistants will load 5-6 Choi pens of different sizes with hair follicles.
DHI Hair Transplant Procedure
DHI transplant involves shaving the donor area but not the recipient area. It is therefore considered a hair transplant without shaving. Well in most cases. There could be situations that require shaving and your doctor would let you know beforehand.
The surgical team will administrate anesthesia in the frontal and occipital parts of your scalp. As soon as the donor and the recipient sites are completely numb, harvesting the individual hair grafts begins. This happens while you are lying on your stomach.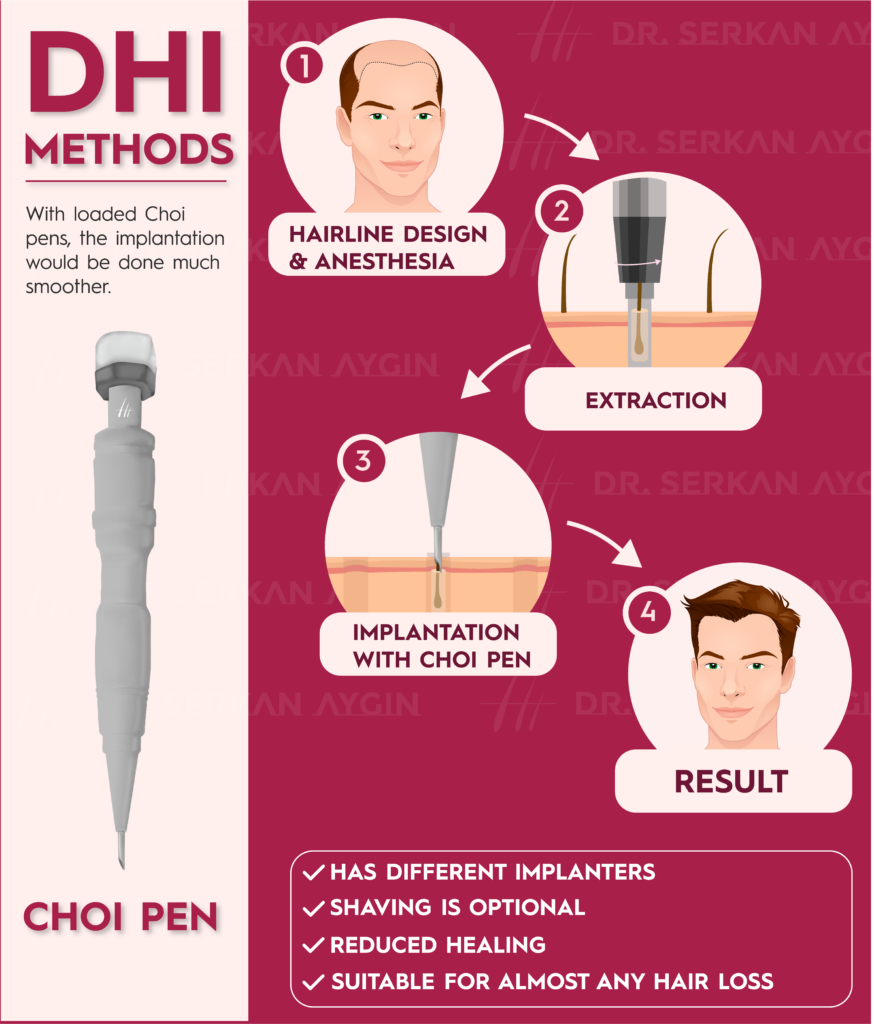 The direct hair implantation technique in this surgery has two main steps:
HAIR FOLLICLES ARE EXTRACTED WITH A TWEEZER
USING A BLUNT PUNCH TO MAKE 0.6-0.9MM INCISIONS WITH A DEPTH OF 2.5-3MM 

Now, it is time for the hair transplantation process. Hence, the extracted hair grafts only spend about 5 to 20 minutes out of the body.
THIS MEANS FOR EACH:
100 to 200 units → will be 15 to 25 minutes
As a result, the process is significantly sped up and helps with the success rate of your hair transplant surgery.
The harvested bulbs will be placed in a Choi pen with a hollow needle measuring approximately 0.5-1.5mm.
With this specialized tool, the bulbs will be inserted into your scalp through clean and microscopic cuts without causing damage to the surrounding tissue.
Who Should Get A DHI Hair Transplant?
DHI implantation procedure can work for almost any type of hair loss. You would still need to have your initial consultation to have a better understanding of your hair loss pattern and what the best next step is.
DHI is an effective treatment for people who:
DON'T WANT TO SHAVE

ARE GETTING A SECOND HAIR TRANSPLANT

HAVE MODERATE TO MILD BALDNESS

HAVE SENSITIVE SKIN

WANT VERY DENSE GRAFTS

ARE SUFFERING FROM HAIR THINNING 
Does My Hair Type Suit the DHI/Choi Method?
When the special implanter pen, the Choi pen was first invented, it was incompatible with every hair type.
Thanks to the latest technology and scientific improvements, the Choi needle tips are now presented in sizes and widths ranging from 0.64 mm to 1.0mm. This results in a safer procedure for all patients with different hair types and characteristics.
 To understand if DHI is the best option for your specific hair type, you should consult with your doctor. They consider every single detail while deciding on the appropriate hair restoration for each individual.
Why Is It Better With Thinning Or Indigenous Hair?
DHI hair transplant works in a more specific and concentrated way. Therefore DHI can be used to focus on the thinning areas. With the precision it brings to the implantation procedure, it will also have a better outcome as well. For example, natural hairline design is only one part of the elevated patient experience. 
Because of the precision that the Choi pen brings to the hair transplant game, it is less likely to affect indigenous hair or preexisting hair. Your doctor can easily implant the hair follicle where it needs to be without damaging it.
Pros & Cons Of DHI Method Hair Transplant
As for any hair transplantation procedure, the DHI method also has its own benefits and some downsides as well. You can see the advantages and disadvantages of the DHI hair transplant technique here:
ADVANTAGES OF DHI

DISADVANTAGES OF DHI

-MINIMAL SCARRING

-QUICKER RECOVERY TIME

-NATURAL LOOKING RESULTS

-HIGHER GRAFT SURVIVAL

-NO SHAVING IS REQUIRED

-LESS BLEEDING

-LOW CHANCE OF INFECTION

-HIGHER PROCEDURE COST

-LIMITED NUMBER OF GRAFTS IN ONE SESSION

-HARD TO FIND A SKILLED MEDICAL TEAM
Reminder: Timing is everything!
Yes, the operation time is long, but the Choi pen makes it easier and faster to implant the hair.
Cost Of DHI Hair Transplant: Why Is It More Expensive?
DHI hair transplant cost varies in a wide spectrum. The cost of a DHI hair transplant can be anywhere from $2,500 to $40,000. This higher procedure cost is mainly due to the special tools used in the process. 
As for the price of special tools like the Choi pen, it can be found anywhere from 550$ to 1,000$ for a box of ten.  
Make a hair transplant cost comparison to deduce if DHI is for you. Here, we have a list of the main factors influencing the cost of a DHI hair transplant.
We understand how important the cost of a hair transplant can be, so here are the factors that affect DHI hair transplant cost.
USING A SPECIFIC DEVICE CALLED CHOI PEN

LEARNING THE TECHNIQUE OF USING THESE SPECIAL TOOLS AND FACILITIES BY THE MEDICAL TEAM 

NEEDING A BIGGER TEAM FOR THE OPERATION

NUMBER OF GRAFTS NEEDED FOR THE PROCEDURE
Is DHI Hair Transplant Worth The Price?
Yes, with promising and natural-looking results, a DHI hair restoration procedure is a great permanent solution for hair loss and baldness. Given the fact that you would also protect your implanted hair during recovery time, you can get a DHI hair transplantation without worrying about whether is hair transplant worth it or not.
DHI Hair Transplant Turkey
Turkey is one of the best countries to have DHI hair transplants for hair loss. Experienced doctors, high success rates, extremely affordable prices, and no post-op complications have made Turkey a popular destination for hair transplant patients. Now let's talk about the details.
Your DHI Hair Transplant Journey in Turkey
It is recommended to arrive in Turkey at least one before the procedure to do all the necessary preparations. Even though you can fly back home 3-5 days after the operation, it is suggested to wait for about a week to make sure there will be no complications. 
One day after the procedure you will have your first wash at the clinic. The doctor will also assess the post-op healing process. Then you will receive instructions on how to care and wash your head on your own. 
Extremely experienced doctors like Dr. Serkan Aygın are skilled enough to achieve the desired results within only one session. This does not compromise the success rate of the procedure, nor affects the final price. 
How Much Does DHI Cost in Turkey?
The cost of DHI in Turkey ranges between $3,000 and $8,000 compared to the $3,500- $30,000 price range in the US. 
DHI is slightly more expensive than FUE with a price range of $2.500-6.000. This is due to the use of Choi pen and the need for enough training to perform the surgery. 
What To Expect: Recovery And Results
What you can expect from a DHI hair transplantation method regarding your recovery and the appealing outcomes.
DHI hair transplant has a 95% – 98% rate of success.
Let's see what happens after a DHI transplantation step by step:
After your procedure, you will come to the clinic to have your bandages changed. First, your head will be washed with a special shampoo. Scabs will be removed to help with the healing process. 

Your transplanted hair is stronger, but still, you have to be gentle with it. Avoid scratching your head, and if you see any hair fall, there is no need to worry. This is part of the healing process and will continue to happen up to 2 to 3 months after your procedure.
You will experience shock hair loss. This is a normal part of your healing process, and there is no need to worry. After the hair shedding you will start to see hair growth.
From the sixth month to the twelfth month

:
You will start to see the results and if your hair implants have been successful. The final results will be visible in almost 18 months.
These are the quick steps to have an idea of your recovery part. Don't worry, your doctor will instruct you on how to take care of your newly transplanted hair.
Compared to other hair transplant methods, DHI has a quicker recovery time. This is because of the smaller incisions that are made on the scalp.
How Long Does It Take To See Results From A DHI Hair Transplant?
You will see the initial results of your DHI hair transplantation after 6 to 12 months. However, the outcome of your hair implantation surgery will be noticeable after 12 to 18 months.
Does A DHI Hair Transplant Leave Any Visible Scars?
No, it doesn't. Fortunately, the pen-like instrument, the Choi pen, only makes incisions as big as 0.6mm to 0.9mm in diameter. So these scars would be barely visible. Advanced DHI techniques reduce the chance of complications. 
DHI Hair Restoration Patient Reviews And Testimonials
An important part of finding a great clinic for hair transplant surgery is to read the patient reviews and, more specifically, DHI hair transplant reviews. This will give you a deeper insight into the procedure and how it would go. It will also give you a better understanding of the hair clinic you are deciding to go to.
Here are some of the reviews from the hair transplant patients:
#1 Hair Transplant Patient:
#2 Hair Transplant Patient: