Hair transplant for women is an aesthetic surgery to manage hair loss permanently, especially at the hairline, temples, and mid-scalp. The main purpose is to give a fuller head of hair while protecting feminine features. The procedure gives promising results as long as enough donor hair is collected.
According to the ISHRS 2020 report on hair restoration, the number of women who are looking for surgical solutions for hair loss is increasing every year.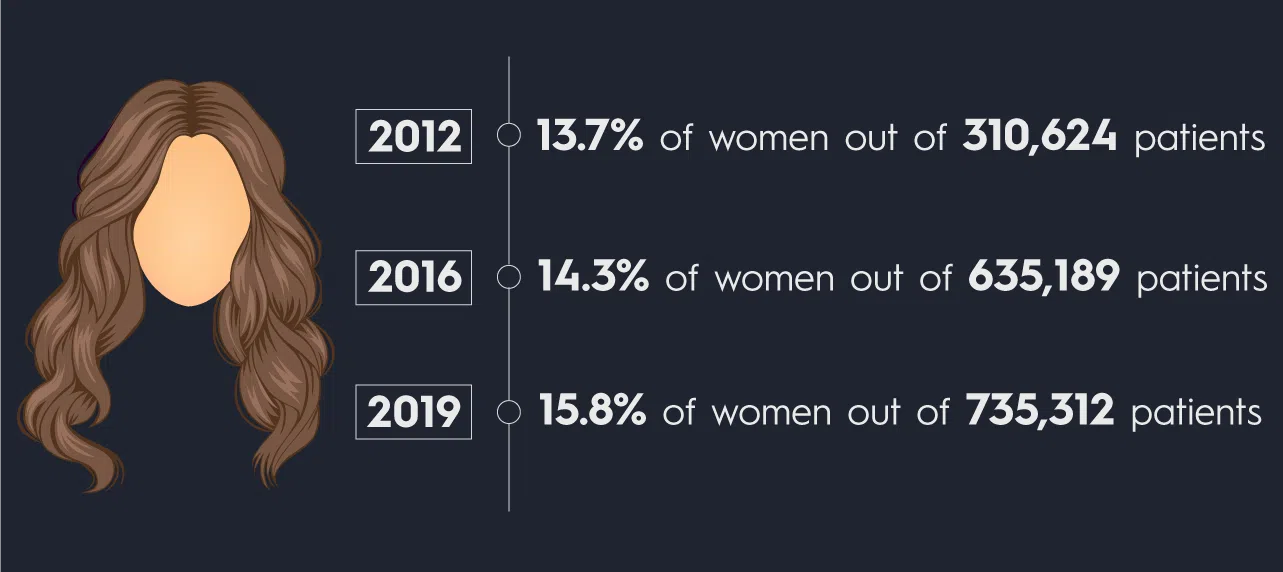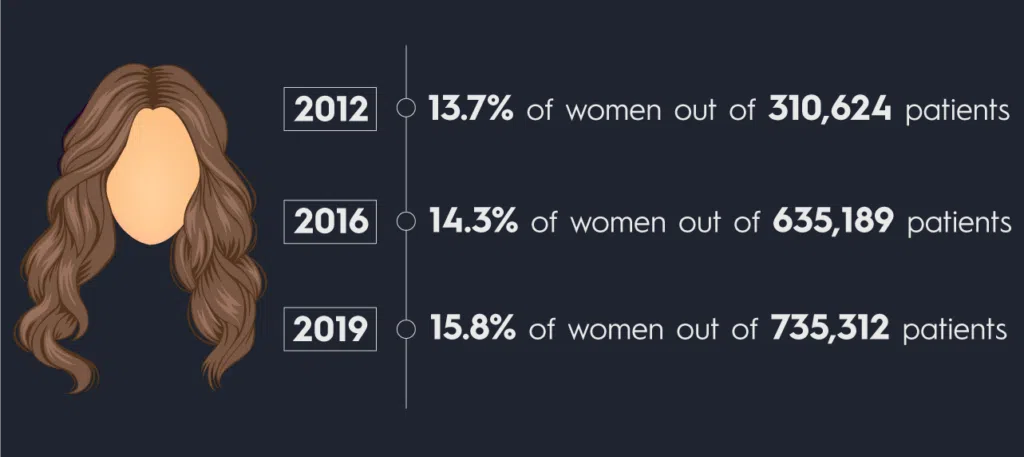 Women's hair transplant requires a complete understanding of hair loss patterns of women, experience in no/partial shaving methods, and an artistic keen eye on natural feminine hairline design.
Here, we will talk about:
FEMALE HAIR TRANSPLANT PROCEDURE

WHY MOST WOMEN CAN NOT GET HAIR TRANSPLANT

THE DIFFERENCE BETWEEN MEN AND WOMEN HAIR TRANSPLANT

THE COST OF WOMEN'S HAIR TRANSPLANT

ELIGIBILITY FACTORS FOR WOMEN HAIR TRANSPLANT

BENEFITS AND DOWNSIDES OF FEMALE HAIR TRANSPLANT

FEMALE HAIR TRANSPLANT IN TURKEY
Facts About Hair Transplant for Women
Female hair transplant is the ultimate choice for women, an alternative to medical solutions. Here, we have some important facts about female hair transplant procedure:
30% OF WOMEN

EXPERIENCE HAIR LOSS AFTER 30S REQUIRING HAIR TRANSPLANT



WOMEN WITH ANDROGENETIC ALOPECIA

BENEFIT THE MOST FROM HAIR TRANSPLANT

WOMEN'S HAIR LOSS PATTERN

DOES NOT ALWAYS FOLLOW A STEADY PATTERN
AFTER MENOPAUSE

YOU CAN GET A HAIR TRANSPLANT
1.1 BILLION DOLLARS

OF MONEY FLOW IS EXPECTED ON FEMALE HAIR TRANSPLANT IN 2023

PARTIAL SHAVING

IS NECESSARY ON THE BACK OF THE HEAD

LEAVES MINIMAL SCARRING

SEEN DURING RECOVERY

PERFORMED UNDER ANESTHESIA

AND TAKES 2-6 HOURS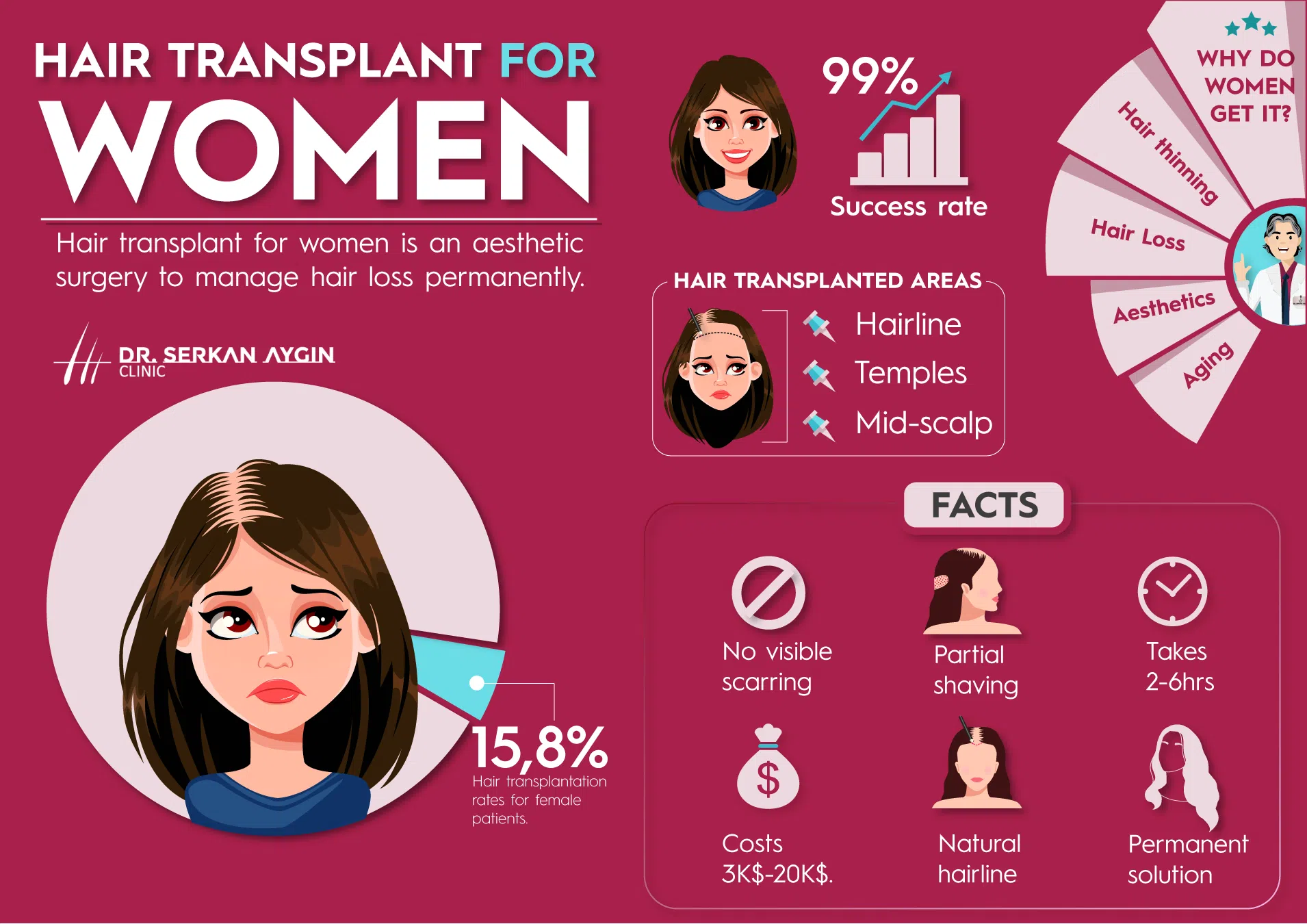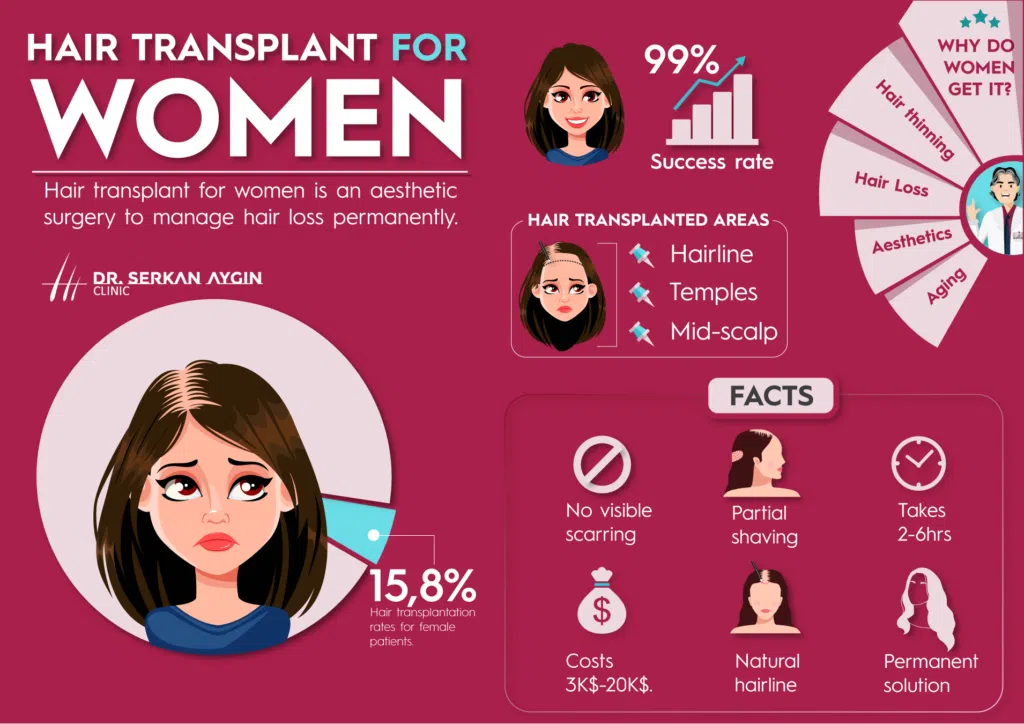 Why Is Female Hair Transplant Different From Male?
The most planted areas for men and women are different. The temples and hairlines are the most corrected areas in women, while men's scalp requires a more extensive correction. However, there is more to say:
HAIRLINE DESIGNS ARE DIFFERENT

TOTAL SHAVING IS NOT DONE FOR WOMEN

THE NATURAL HAIR DIRECTION GOES FORWARD IN MEN, AND BACKWARD IN WOMEN

THE DONOR AREA IS HARDER TO DEFINE FOR WOMEN

TRANSPLANTED FOLLICLES ARE STRONGER FOR MEN

WOMEN REQUIRE LESS AMOUNT OF GRAFTS
How Is Hair Loss Scale Defined for Women's Hair Transplant?
Women experience hair loss beginning with crown thinning and then slowly widening through the edges, usually followed by receding hairline according to Ludwig's classification of female hair loss pattern.
For the first time documented by Erich Ludwig, the female pattern of hair loss was later developed by many like the Savin scale.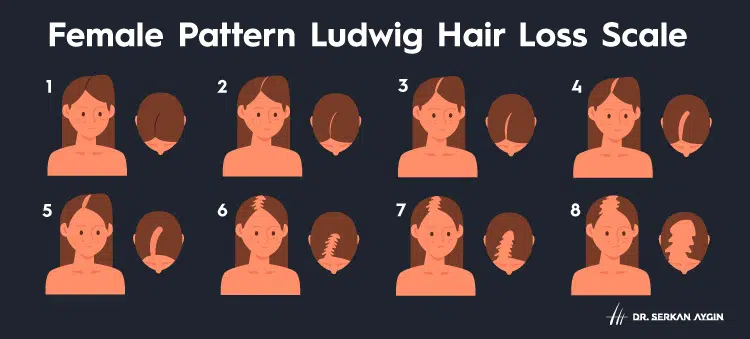 Female hair loss patterns can be defined with the help of the Ludwig scale. Defining hair loss patterns is important before performing a hair transplant surgery for women, to find a safe donor area where hair will be harvested from.
Is Female Hair Transplant Permanent?
Yes, once it's done the results are permanent because the transplanted hair grafts are not subjected to genetic hair loss.
Around 1 month after a female hair transplant it is expected to see a shock loss which is completely normal. You will start growing hair in the planted areas around the 3-month mark and final results can be seen within a year.
Is Hair Transplant for Women Safe?
Yes, hair transplant surgeries have been performed for both genders over 3 decades. Although there are some side effects, they are minimal and easily manageable with the proper instructions.
Is Hair Transplant Painful for Women?
No, during the procedure they numb and you feel nothing. Besides extra comfort, you also have a sedation option, which relaxes you more. This is called the soft FUE procedure.
After the surgery, you might have mild pain and may still feel numb around the surgery sites. It doesn't take longer than a few days. Your doctor may give you painkillers to ease the pain.
Is Hair Transplant Possible For Curly Hair
Yes, a hair transplant can be performed for curly-haired women. Curly hair transplant procedure follows the same traits with some extra care on the extraction and implantation of uniquely shaped curly hair follicles.
Is There Any Difference For African American Women's Hair Transplant?
Other than the challenge of curly hair, which is a common characteristic of African American women's hair type, there is nothing different. Curly hair transplant procedures follow some unique traits to avoid damaging the hair follicles.
How Is The Female Hair Transplant Procedure Done?
The procedure is performed under local anesthesia. First, the donor area on the back of the head is shaved. After that, the female hair transplant procedure begins with harvesting the hair follicles from the shaved donor site. When collected enough grafts, they are then implanted in the thinning or balding areas.
In the receiving area, there is no shaving. You will be able to keep your hair long. 
Every follicle is inserted following the natural direction of the hair and will blend seamlessly.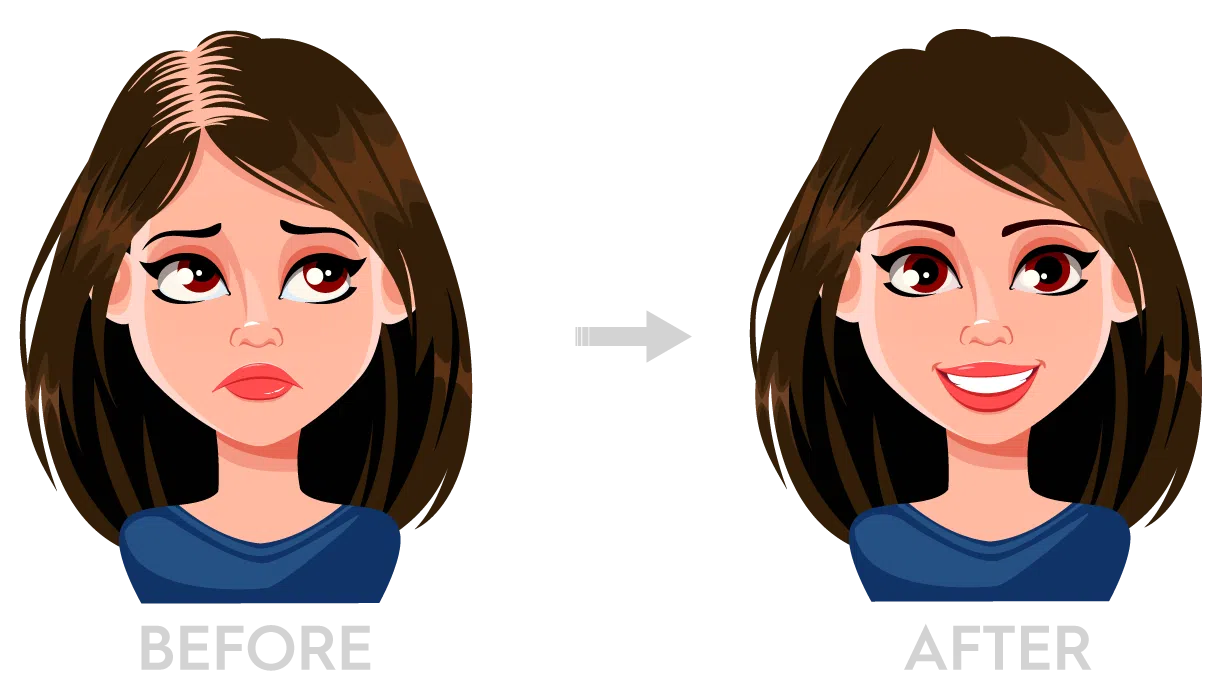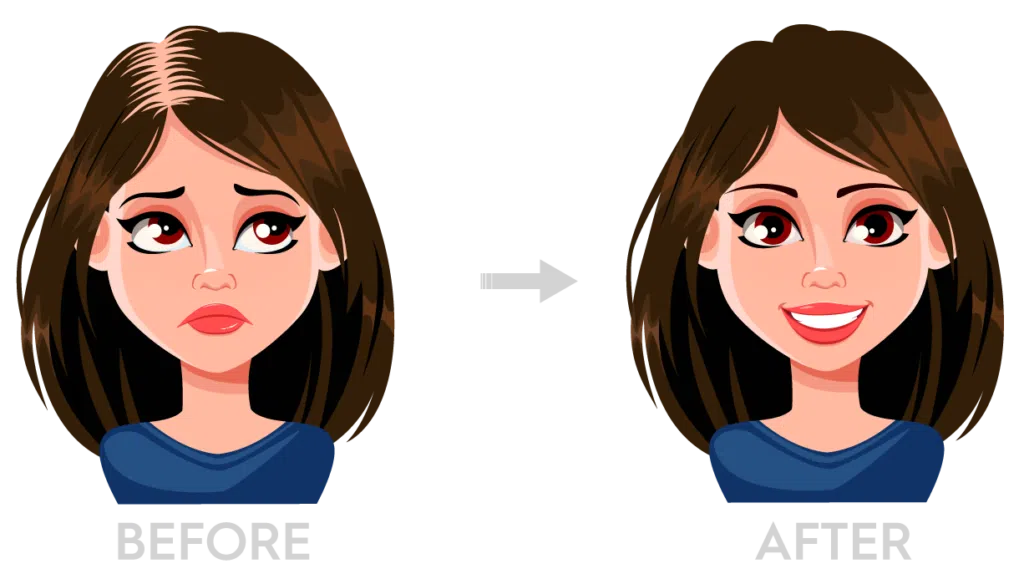 Which Methods Are Used for Female Hair Transplant?
The most used method for women is FUE combined with DHI. Thanks to FUE, the follicles are collected with partial shaving from the donor site. The DHI allows shave-free surgery.
How Many Hair Grafts Do Women Need?
Usually, between 1,500 to 3,000 grafts are needed for female hair transplants. This will make enough coverage for the sparse-looking areas and increase the density, but in some cases, more than 3,000 grafts may be needed in larger surgeries.
Especially around the age of 50, genetic female hair loss starts to present and affects your hair the most.
What Is The Most Hair-Transplanted Area For Women?
The hairline is a commonly done area for women. This area can get thinner due to stress, and genetic reasons.
Designing the female hairline is a great matter. It might even be called the signature of the doctor. 
Female Hairline Lowering Hair Transplant: Is It Possible?
Of course, it is possible. Often a women's hair transplant is used to lower a high hairline. This new line of hair will be lower, look natural, and stay there for the rest of your life. However, you can only go as low. You can't implant hair where your facial muscles are.
Cost of Female Hair Transplant
The average cost of a hair transplant for women is around 3,000$ to 20,000$. Amazing results usually depend on the location, the follicles needed to transplant, and the experience of your surgeon. For the best results, make sure you choose one of the newest techniques, DHI or FUE.
Pros and Cons of Female Hair Transplant
Pros of female hair transplant surgery:
LEAVES NO VISIBLE SCARRING

GIVES NATURAL-LOOKING RESULTS

99% SUCCESS RATES WITH AN EXPERIENCED DOCTOR

MAKES YOU FEEL COMFORTABLE IN YOUR LIFE

FULL SHAVING IS NOT NEEDED
Cons of female hair transplant surgery:
DOES NOT WORK FOR DIFFUSED ALOPECIA

[5]
NOT AVAILABLE WHEN IN COMPLETE BALDNESS

POSSIBLE SIDE EFFECTS

A FEW DOCTORS ARE QUALIFIED

THE PROCEDURE IS AVAILABLE FOR FEW
When you have ongoing diseases and have so much diffused hair, the procedure is not the best option. It has over 90% success rates, but this number represents the people who got their surgeries done in well-known clinics. So, what happens to that 10%?
Let us explain!
Challenges in Women's Hair Transplants
Why has my female hair transplant gone wrong? One of the main reasons is inexperienced doctors. 
Here are some other reasons why women have less than desirable results:
A SURGEON'S INEXPERIENCE IN THE PROCEDURES OF FUE AND DHI

EMPLOYING THE SAME HAIRLINE DESIGN AS USED IN MEN

HARVESTING OR PLANTING MORE THAN NEEDED

INSUFFICIENT DONOR AREA EVALUATION

POOR-QUALITY PLANTED GRAFTS

INFECTION OR COMPLICATION

FAULTY POST-OP CARE
Who Is Eligible for a Female Hair Transplant?
The ideal candidates for hair transplantation are women with considerable hair loss or thinning on the scalp temples and around the hairline, who also have enough donor hair. 
When you are experiencing hair loss, it does not have to be a permanent one, and you might need to consult your dermatologist or doctor before considering a hair transplant. Our advice is that, first, make sure you need it.
You can get a hair transplantation as a woman:
WITH A STABLE OR SLOW HAIR LOSS PATTERN

AFTER A SCALP INJURY: PHYSICALLY OR CHEMICALLY

AFTER EXPERIENCING POLYCYSTIC OVARY SYNDROME HAIR LOSS

AFTER EXPERIENCING FRONTAL FIBROSING ALOPECIA
AFTER PLASTIC SURGERY, OVER THE INCISION SITES

AFTER COMPLETING RADIOTHERAPY OR CHEMOTHERAPY
You may not be an eligible candidate when:
YOU ARE USING YOUR MEDICATIONS CAUSING HAIR LOSS
YOU ARE BEING TREATED FOR TRICHOTILLOMANIA
YOU ARE EXPERIENCING LICHEN PLANOPILARIS
YOU DO NOT HAVE ENOUGH DONOR'S HAIR
YOU HAVE COMPLETE BALDNESS (ALOPECIA TOTALIS)
Can Females Get Hair Transplant for a Completely Bald Head?
You cannot get a hair transplant when your hair follicles are completely lost and not growing back again. Complete baldness does not usually occur in women, but can be seen after a specific type of hair loss as temporary or permanent.
After discontinuation of the temporary condition causing a high degree of hair loss, you will grow your hair back and that's the time when you can have a hair transplantation after baldness.
Can Women Get a Hair Transplant After Menopause?
Yes, a hair transplant is possible after your body's estrogen and progesterone production decreases, in other words, menopause. After these hormonal changes, your hair might lose its volume a bit. 
With additional hormone therapies and a hair transplant, you can regain the lost volume of your hair.
Why Most Women Cannot Get It?
Considering eligibility factors, women are 5 times less likely to get hair transplants compared to men.
Because the donor area is hard to define for women. Women's hair loss patterns are not well-patterned all the time. The thinning area is usually diffused, not localized. 
Hair follicles, to be transplanted, should be from a hair loss-resistant area, the donor site. Otherwise, hair transplant fails. To reduce the failure rates a thorough examination is always made. 
How Is the Female Transplant Post-Operation?
Even if the implanted area is not shaven you may have some concerns about the aesthetics of post-op. 
The donor and recipient areas might look unnatural in the first weeks. Do not worry though, patience will pay well. 
During this time we have some tips on hair care to be taken after a hair transplant for women:
YOUR SCALP MIGHT BE ITCHY, USE THE LOTION

DON'T WEAR LATEX SWIM CAPS AND TIGHT BONNETS

COVER YOUR HAIR AS INSTRUCTED BY OUR TEAM

AVOID CROWDED SITUATION IF YOU FEEL UNCOMFORTABLE

DON'T GET SCARED ABOUT UNEVEN GROWTH, IT WILL PASS
YOU CAN DYE YOUR HAIR AFTER A FEW MONTHS
DO NOT SCRATCH THE TRANSPLANT AREA
NO CHEMICALS IN THE FIRST MONTHS

NO HAIR STYLING PRODUCTS AT FIRST
NOTE
Everyone heals differently. Always consult your doctor before using harsh chemicals on your scalp, to be on the safe side.
How To Hide Female Hair Transplant Results
Wearing a loose hat or headband may help you hide the recipient sites after around 10 days. Besides, during the surgery, they need to shave the back of your head. It might not look so good but do not worry. You can easily cover the shaved part with your existing hair. They do not shave them all.
Hairstyles To Avoid After a Female Hair Transplant
While it is best to use loose hairstyles, wait till your hair follicles recover and stay away from:
SLEEK BUNS AND PONYTAILS

DREADLOCKS

BRAIDS

TIGHT AFROS

HAIR EXTENSIONS (ON SURGERY SITE)

CURLING/STRAIGHTENING WITH HEAT
Women's Hair Transplant In Turkey: Benefits And Options
People choose to have female hair transplants in Turkey to cover their thinning or balding areas for a better hairline and to have a look of a fuller head of hair with budget-friendly and top-notch quality offers.
➲ The value of women: Turkey is a pioneer country in validating women's rights for the first time thanks to Ataturk.
➲ Experienced doctors: Turkey has many qualified doctors like Serkan Aygin performing hair transplantation for women.
➲ Easy-to-pay package deals: Packages make the process go smoother and provide payment convenience. 
➲ Health tourism rival: Health tourism, challenges clinics to offer the best service to have the best advertisements, the patients themselves.
➲ Strict regulations: In Turkey, there are many laws protecting your rights to learn what the clinic offers and performs.
Don't hesitate to contact us for a free consultation for your female hair transplant surgery in Turkey, and remember every woman is beautiful.
REFERENCES

[1] International Society of Hair Restoration Surgery: 2020 Practice Census Results

[2] Lam, S. M. (2020). Hair Loss and Hair Restoration in Women. Facial Plastic Surgery Clinics of North America, 28(2), 205–223. doi:10.1016/j.fsc.2020.01.007

[3] https://www.gminsights.com/industry-analysis/hair-transplant-market

[4] Unger RH. Female hair restoration. Facial Plast Surg Clin North Am. 2013;21(3):407-417. doi:10.1016/j.fsc.2013.05.011

[5] Fabbrocini G, Cantelli M, Masarà A, Annunziata MC, Marasca C, Cacciapuoti S. Female pattern hair loss: A clinical, pathophysiologic, and therapeutic review. Int J Womens Dermatol. 2018;4(4):203-211. Published 2018 Jun 19. doi:10.1016/j.ijwd.2018.05.001

[6] Ülker Erkan, A. (2011). THE FORMATION OF FEMINIST IDENTITY: FEMINISM IN THE 1930'S TURKEY AND BRITAIN . Kastamonu Eğitim Dergisi , 19 (3) , 1013-1028 . Retrieved from https://dergipark.org.tr/en/pub/kefdergi/issue/49049/625746

[7] Ludwig E. Classification of the types of androgenetic alopecia (common baldness) occurring in the female sex. Br J Dermatol. 1977;97(3):247-254. doi:10.1111/j.1365-2133.1977.tb15179.x

[8] Savin RC. Kalamazoo, MI: The Upjohn Company; 1994. Evaluating androgenetic alopecia in male and female patients.

[9] Scribel M, Dutra H, Trüeb RM. Autologous Hair Transplantation in Frontal Fibrosing Alopecia. Int J Trichology. 2018 Jul-Aug;10(4):169-171. doi: 10.4103/ijt.ijt_37_18. PMID: 30386076; PMCID: PMC6192237.