Poorly performed hair transplant may cause several problems in people's lives. Even though performing a hair transplant on a virgin scalp is relatively easy, performing a second hair transplant on a botched hair needs different kinds of skills. However, it is still not impossible to reverse a hair transplant if you are in safe hands. After a revision hair transplant is performed successfully, the patient's life changes forever.
Hair transplant repairs require far more experience as it is hard to correct the previous botched hair transplant. In repair procedures, the specialist may encounter several hardships. That is why it is significant to find a reputable clinic in the first place. If damage is already done, there are still ways to repair a hair transplant. A second hair transplant can be carried on people who have had an unsuccessful hair transplant before or on people who want to add density and thickness to their hair after the first hair transplant.
If your initial hair transplant operation did not meet your expectations, it is possible to have hair transplant repair surgery to fix your hair. Before undergoing a hair restoration procedure, it is crucial to select a qualified and reputable surgeon that uses techniques individualized to the specific patient to achieve the best outcome.
Unsatisfactory hair transplant results can be pretty disappointing. Your hair is an important part of your appearance and it enhances one's beauty by complementing the facial features.
An experienced hair transplant specialist has expertise in planning an effective and customised operation to provide a successful result.
Is It Possible to Repair an Unsuccessful Hair Transplant?
Fixing a failed hair transplant can be challenging, but an experienced doctor may prevent any negative outcomes and oversee possible consequences. If you're considering a revision hair transplant in Turkey, first you need to consult a doctor by sending your current hair photos. After that, doctors can customize your operation.
Possible reasons for a failed hair transplant operation could be improper graft handling, poor post-operative care and inexperience of the doctor. How you take care of your newly implanted hair after the operation is as important as the operation itself. That is why taking care of your scalp and following after hair transplant instructions is significant. Otherwise patients may end up having scars on their scalp and the transplanted grafts will not grow back again.
Fixing Mohamed's Botched Hair Transplant at Dr. Serkan Aygin Clinic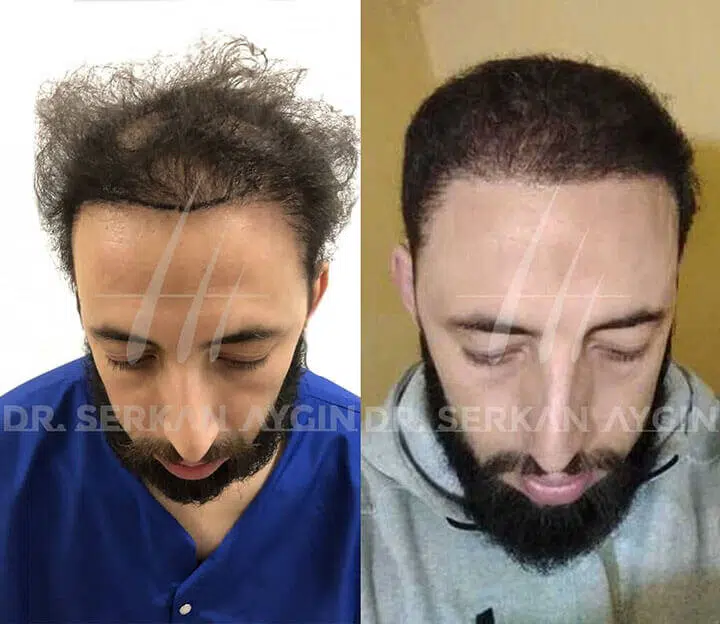 Hair Transplant Gone Wrong
Our dear patient Mohamed has had a bad hair transplant experience before. After searching for the best doctor that can fix it, he found out about Dr. Serkan Aygin Clinic and decided to have a second hair transplant. 1200 grafts were extracted from his backhead, 800 grafts were extracted from his beard. In total, 2000 grafts were transplanted using DHI technique to restore his hair.
He says:

Hello everyone , I'm Mohamed from Morocco. I want to share my experience about my hair transplant operation that I had last year in a cheap clinic. They made me believe that the operation will be 100 % successful. Unfortunately it wasn't the case and the result affected me financially and psychologically until I found out about Dr. Serkan. I talked to him and he told me that I can have a second hair transplant operation. He promised me the operation will be successful this time. So I bought my tickets and I went to Turkey to get a hair transplant.



They welcomed me at the airport with a VIP car and took me directly to the hotel and I went to the clinic the next day. I had a consultation with the doctor that day. He made his diagnosis and he was very understanding and he supported me and promised that this time I will have a good result the medical team was very professional. I didn't feel any pain during the operation. You may feel a little pain when they inject the sedation but after that, you won't feel anything at all. Actually I am very satisfied with the result. It's been 3 months since I did the operation but I can see a huge difference already. I've achieved almost %50 of the final result. My advice to anyone considering a hair transplant is to find a qualified doctor in the first place and never go to a cheap and unlicensed hair transplant clinic. Lastly, I want to thank Dr. Serkan for doing a great job. I highly recommend Dr. Serkan Aygin Clinic.